You have a special event coming up? You need food catered to your guests? Choose Sophia's Concessions tasty food truck. We make is convenient for you. We're located in Southern California but we also serve Arizona and Nevada. There is no event too big or small for us. We have three different size food trucks:
30ft trailer
17ft trailer
10 ft trailer
(Hitches are included in the length) Having three different options makes it easy for everyone.
We have people call us a few days in advance asking, "hey, our food truck cancelled, can you come?" or "we forgot that we needed food for our clients coming in, can you post your truck in our parking lot for them?" We will try to work with you.
Our Tasty Food Truck Menu
Our menu caters to everyone. We believe that quality doesn't have to be sacrificed to serve fast great tasting food.
We serve awesome tacos, with fresh made salsa. Our burritos are fulfilling with homemade beans. Children love our toasty, cheesy quesadillas.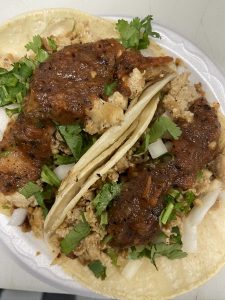 Looking for some American food? Our bacon wrapped hotdogs with jalepeno and grilled onions are a hit! Need just a quick burger? We got bacon burgers and good ol' regular cheese burgers. A classic dish we have is tenders and fries.
Check our Menu Below
Carne Asada tacos, burritos and quesdillas
Chicken tacos, burritos and quesdillas
Bacon-wrapped hotdogs
Cheeseburger, bacon burgers
Chicken tenders and fries
Breakfast
Coffee and Cold drinks
Fresh Squeezed lemonade
Need Breakfast?
Need us to come early? We have great tasting breakfast burritos. We do traditional bacon-eggs and potatoes, chorizo and eggs, steak and eggs along with some freshly brewed coffee. All of our burritos come with fresh homemade salsa.
We're ready to be part of your event. Let us know how we can help. You can reach us at our contact page.
You can also find us at Inland Empire 66ers Baseball games.